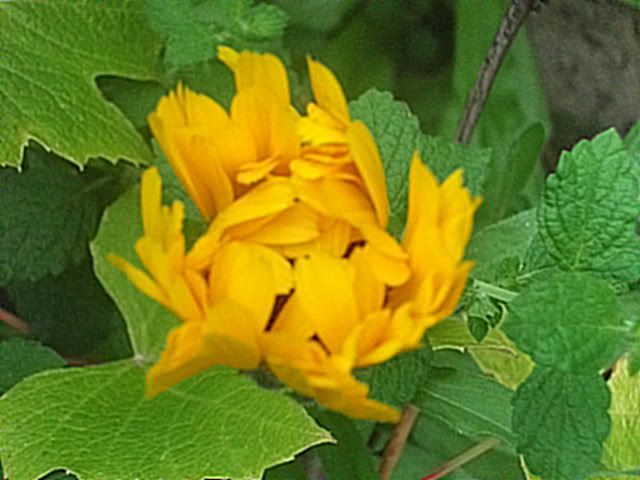 September brings my favourite time of year again; the Autumn, that enjoins my reflection and introspection on what I've done through the cold of Winter, the birth of Spring and the work of Summer. Yes, this is my time. I feel the changes in the landbase and the watershed; I sense the anxious flutters of feathers gathering together and planning the great exodus of winged things from this place. I see the makings of harvest-time all around.
Entering the garden is a sacred act. Yes, there are mundane chores to be done, but there are countless hours that must be spent grounding and nurturing the very essence of Life -- to do magic. On the days the seeds were harvested from the stalk, dried in the sun, scarified and placed back into the earth, drowned in liquid miracles and born of the dark Mother's womb, and when the fruit was harvested, picked clean, peeled, prepared, combined with other fruits and delivered to the open mouths of those I love, I reflect in solitude.
My boys refused to help me set it up the way I had planned. There was too much shade. Not enough depth. There have been bugs on the leaves of the beans and the artichokes. My younger boys decided to set up targets to practice shooting their guns in my lovely garden leaving heirloom tomatoes a'shambles, cut off at the base and holes through the cabbage leaves. Yet, I loved in this garden. I grounded here. My tears were shed into the soil. My laughter and smiles greeted every leaf and stalk and root. I touched each bug chewed leaf with gentleness and healing.
As in all relationships, there is a time for incubation of thought and feeling, birth of new ideas and actions and implementation of plans, the hard work of doing the magic that brings life to it; and then there is time to look back and reflect. To learn. To be joyful at the successes and to be mindful of attempts that did not succeed. To engage in the turning of the Wheel, setting the course for Winter's contemplations and to return to the Darkness from which all Life is born.
The moon is full and bright, glinting off the tall, bluish green of the leeks. There are blackberry vines that have come over to join the tomatoes (or have the tomatoes invited themselves to dance among the berries?). There is a contented murmur of the hens who are tucked safely into their bedding made of cedar shavings and bits of feather-dust. There is the slight crackling sound of the embers smoldering in the fire. There is the sound of darting bats diving through the swarms that glitter in the moonlight. There is a cool, mild breeze playing a tune through the pine and plum trees.
There is Peace. What more could a Witch desire than to achieve what she set out to do?